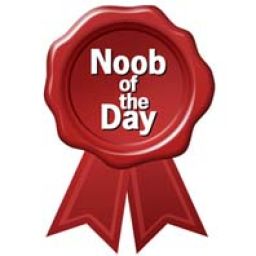 Da ja sam noob. Eto, čovek se uči dok je živ. A jezik je živa stvar, menja se, stvaraju se nove reči. Moji studenti često znaju mnogo više od mene, pogotovu u nekim oblastima, recimo on-line games.
Za one, kao ja, koji misle da znaju ponešto o engleskom jeziku a u stvari su slučaj iz naslova posta, evo objašnjenja:

Noob, or n00b, is a term used to describe any player who is new to a game, or to gaming in general. It has also become a favorite insult, and you will see many exchanges in online games that involve this particular label.
Ali, ti pojmovi su izašli iz tog kruga gamera pa sad taj pojam možemo primeniti na svakog ko je novajlija, neznalica, recimo.
Ima i tu razlike – Newbs je bolja varijanta, nemate pojma, ali ima materijala i volje da se nešto nauči. Noob je dno, nemaš pojma, nećeš ništa da naučiš i očekuješ da drugi rade za tebe, ti samo da pokupiš kajmak. Evo za proveru link Urban Dictionary.
ili
A newb or newbie; refers to the idea that someone is new to a game, concept, or idea; implying a lack of experience. Also, in some areas the word noob can mean someone is obsessed with things.
* Noobs are annoying, they never know the forum rules.
* You just got pwned, noob.
* I'll teach you noobs how to play.
* I kill all you noobs in seconds!
* You suck, you son of a noob.
* You are such an anime noob.
* You are such a band noob.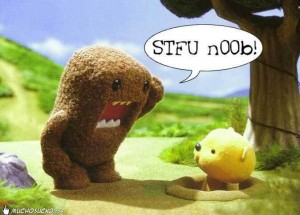 To nije sve. Sledeći pojam je stfu noob .
Naravno Urban Dictionary daje objašnjenje, to je skraćenica
Shut The Fuck Up Noob!
Objašnjenje!
Eto odradila ja domaći zadatak, edukovala se malo. Da sam igrala neku on-line igricu, rekoše mi, sve to bih znala posle 10 minuta. Ali, znanje stiže ponekad čudnim putevima do nas.