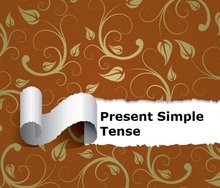 Dakle prvo i osnovno vreme, koje se uči u engleskom jeziku, je pomenuti Present Simple Tense. To bi značilo da je vreme prosto,tj. da nije složeno(mudro, zar ne). Da to prvo razjasnimo, sa aspekta, našeg, maternjeg nam, srpskog jezika.

Present Simple Tense, objašnjenje
Srećom i kod nas postoje i prosta i složena vremena, tako da su negde moguće direktne asocijacije, tj. postoje poklapanja, a negde nisu.
Prosto vreme u srpskom jeziku je prezent.
Ja pijem limunadu.
Složeno vreme u našem jeziku je na primer perfekat.
Ja sam pio limunadu.
Dakle ovako

složeno gl.vreme = 2 dela,2 reči, 2 kom,2 glagola, kako je kome zgodnije, pomoćni glagol+ glavni glagol
1. sam + 2. pio
prosto gl. vreme = 1 deo, 1 reč, 1 kom, 1 glagol – samo glavni glagol – main verb – gčagol koji se menja
1. pijem
Present Simple Tense je kako mu ime kaže Simple = prosto vreme
Znači samo nam treba glavni glagol, kom 1.
To se odnosi na potvrdni oblik, na izjave tipa:
ja pijem, on jede, ona spava itd.
– Kada se koristi Present Simple Tense
Izjave, tzv opšta mesta, nešto što se radi svakog dana ili u redovnim razmacima (svakog petka, npr), nešto što je samo po sebi tako kako je (Godina ima 12 meseci.)
A pravi se prosto da prostije ne može biti.
potvrdan oblik -positive
jednina
1. I play
2. you play
3. he plays
– she plays
– it plays
množina
1. we play
2. you play
3. they play
Znači imamo glagol u infinitifu to play, briši to i dobiješ infinitivnu osnovu, koja je istovrmeno oblik u svim licima Present Simple Tensa sem u 3-em licu jednine u kom dodajemo nastavak – s.
To je to, za početak.
E sad na posao, da se malo vežba:
vežba br 1
vežba br 2