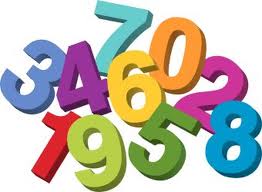 Danas ćemo se podseteti koje sve vrste brojeva postoje u engleskom jeziku.
Idemo redom. Počinjemo od Cardinal Numbers – osnovni ili glavni brojevi. Oni služe da brojimo – The numbers used for counting are called "cardinal numbers".

Osnovni brojevi – Cardinal Numbers
Da ja sad tu ne bih nabrajala, nešto što je manje više poznato, ko želi da proveri svoje znanje, lepo jedan klik baš ovde.
! Obrati pažnju ! kod obeležavanja brojeva. Tačka se koristi za odvajanje decimala
3.061 – 'three point nought six one' = 3,061 je standard kod nas
Znači ovde se tačka čita kao point a ne full stop.
Zarez se koristi za odvajanje trocifrenih brojeva, hiljada, miliona.

3,061 – 'three thousand and sixty-one'= 3.061 kod nas je obrnuto!!!!!
The numbers you use to talk about the order of things , znači to su brojevi koji su nam potrebni da izrazimo neki redosled. se zovu
Ordinal Numbers – redni brojevi
First 1st
Second 2nd
Third 3rd
Fourth 4th
Fifth 5th
Sixth 6th
Seventh 7th
Eighth 8th
Ninth 9th
Tenth 10th
Znači, obratićemo pažnju na prva tri broja, posle je sve isto, samo dodajemo nastavak – th, koji se čita kao t, samo jezik dodiruje zube.Evo još jednog linka sa osnovnim i rednim brojevima link , a ako se potrudite imate i izgovor svakog broja.
Odd and Even Numbers – neparni i parni brojevi u engleskom jeziku
– odd, differing in nature from what is ordinary, usual, or expected: an odd choice.
Znači, reč odd je u principu nešto čudno, neobično, neočekivano. Samim tim i neparni broj je Odd Number. Kada pokušamo da ga podelimo sa dva, uvek nešto ostane.
Dok kod parnih brojeva, Even Numbers, nema ostatka.
Šematski to izgleda ovako:
****
****
To bi bio parni broj, kako god da ga prikažemo on je pravilnog oblika i taako je dobio svoj naziv na engleskom.
A ovaj je baš odd , ovaj neparni
**********
*********
Da pomenemo i decimalne brojeve, Decimals
2.36 – two point three six
Brojeve u procentima, Percentages
36% – thirty six percent
Razlomci – Fractions
Kod razlomaka obratiti pažnju, gornji broj se čita kao osnovni a donji kao redni + nastavak – s
3/8 – three eighths
Izuzetak – naravno kao uvek, polovina – half, četvrtina – quarter
1/4 – quarter, 1/2 one half