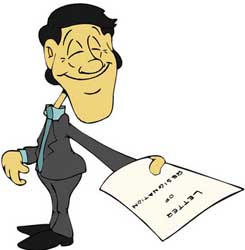 Tražili ste posao tako dugo, počeli da radite, kad ono sa svih strana pljušte još bolje ponude za posao. Ko bi odoleo! Hajde da napišemo ostavku sa stilom, nikad se ne zna, u ovo današnje vreme HR-a, kada se sve stavke iz CV-a proveravaju. Ostanite upamćeni, ali neka to bude dobro!

Try not to cheer too loudly as you read this letter, for the day you have been waiting for has arrived. I'm resigning!
I finally won the lottery and will be moving on with only the fondest feelings for my time with the company…..
I will be bringing cupcakes to the office on my final day, and I hope everyone will join me in celebration. If cupcakes aren't your thing, feel free to buy me a good-bye drink after work….
Postoji mogućnost da napišete i ovakvo pismo. Moj predlog je da pogledate još neke od formi, koje postoje na ovom sajtu link
Ima mnogo primera
– Formal Resignation
– Resignation — Moving to a New Job
– Resignation with Gratitude
Pronaćićete i savete za pisanje, kao i gotove forme pisama. Srećno 🙂