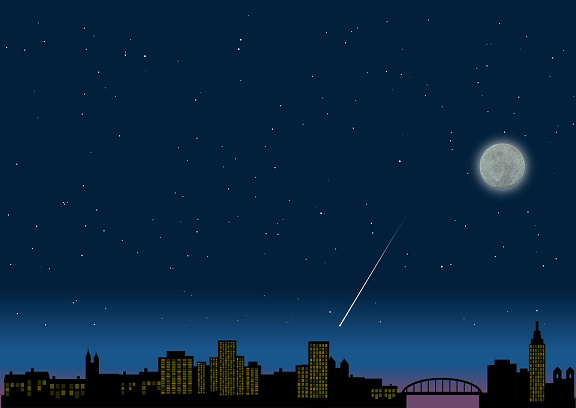 Pomračenja Meseca, zanimljivosti  i engleski termini
Današnji dan je posvećen pomračenju Meseca, recimo Google Home Page je dao mogućnost virtualnog posmatranja u, kako kažu, gotovo realnom vremenu, za one stanovnike naše planete, koji nisu u mogućnosti da to posmatraju uživo. Mi tu ne spadamo, ako proturimo glavu kroz prozor, sve se lepo vidi.



Da se ja vratim na englesku terminologiju.
Lunar Eclipse se kaže pomračenje Meseca na engleskom.
Eclipse izgovara se iklips je baš jedna zgodna reč u značenju pomračenje, pomračiti, ono u stilu pao mrak. Može biti i imenica i glagol.
When was the last total eclipse of the sun? – imenica
The sun was partially eclipsed at 9 a.m. – glagol
Svašta može da se pomrači, smrači, zaseni, recimo:
TOTAL ECLIPSE OF THE HEART
Turnaround, every now and then I get a
little bit lonely and you're never coming around
Turnaround, Every now and then I get a
little bit tired of listening to the sound of my tears
Turnaround, Every now and then I get a
little bit nervous that the best of all the years have gone by
Turnaround, Every now and then I get a
little bit terrified and then I see the look in your eyes
Turnaround bright eyes, Every now and
then I fall apart
Turnaround bright eyes, Every now and
then I fall apart
…….
Once upon a time I was falling in love
But now I'm only falling apart
There's nothing I can do
A total eclipse of the heart
Once upon a time there was light in my life
But now there's only love in the dark
Nothing I can say
A total eclipse of the heart….
Ipak je najlepše odslušati Boni Tajler, kako izvodi ovu klasičnu pesmu
Da ostavimo srce po strani i da se vratimo Mesecu i ostalim nebeskim telima, koja se mogu pomračiti.
The partial or complete obscuring, relative to a designated observer, of one celestial body by another
Celestial body – nebesko telo
obscure čita se obskjur – zamračiti, potamniti ili mračan, nepoznat, neshvatljiv
A solar eclipse occurs when the moon passes between the sun and the earth; a lunar eclipse when the earth passes between the sun and the moon.
Solar eclipse – pomračenje Sunca
Total eclipse, partial eclipse – potpuno i delimično pomračenje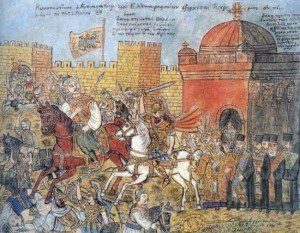 Postoje neka verovanja da pomračenja Sunca i Meseca predskazuju neke važne događaje. Ko će ga znati! Bilo je toga, nije da nije.
Evo, na ovoj sličici iznad je neki nepoznati umetnik dao svoje viđenje pada Konstantinopolja u ruke Turaka i kraj Istočnog rimskog carstva (april -maj 1453 godine). Za vreme te opsade došlo je do totalnog pomračenja Meseca, kako je i predskazano, davno pre toga i Vizantijska imperija, koja je trjala više od 1.000 godina je nestala zauvek.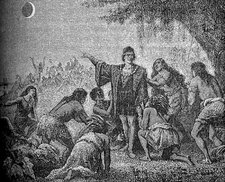 Samo nekih pola veka kasnije, Kristifor Kolumbo i njegova ekipa su žarili i palili po tek otkrivenim Karipskim ostrvima. Bukvalno. Toliko su se osilili da je, inače veoma kooperativan domorodački živalj, počeo da se buni.
Da bi ih smirio, Kolumbo je u astronomskom almanahu, koji je imao sa sobom, video da će doći do pomračenja Meseca. Zgodno je okupio domaći živalj i pokazao im je kako je neka avet pod njegovom komandom, pojela Mesec i ako se ne primire, poješće ga zauvek. Naravno postigao je svoj cilj.