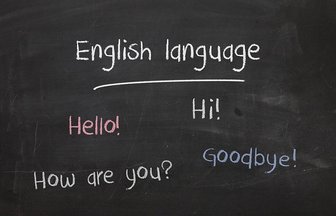 Nadam se da nije potrebno da se podsećamo vrsta reči u srpskom jeziku, to smo davno naučili, zar ne :-).
Da vidimo kako stoje stvari u engleskom jeziku.
Vrste reči u engleskom jeziku – word classes u engleskom se dele u 2 osnovne grupe.
1. Open Word Classes
2. Closed Word Classes

Evo o čemu se radi:
1. grupa, vrste reči koje su, otvorene, npr. imenice, glagoli, su one vrste reči, koje su podložne stvaranju novih reči.
2. grupa reči su zatvorene vrste reči, tj. nema novih, te koje postoje, to su te, niko neće smisliti novu reč iz te vrste. Da bude jasnije – zatvorene vrste reči su zamenice, članovi,… i to su ti koji postoje, teško da će doći do nekih promena u toj oblasti.
Da ih mi lepo nabrojimo:
1. Noun – imenice
2. Verb – glagoli
2. Adjective -pridevi
3. Adverb – prilozi
4. Pronoun – zamenice
5. Preposition – predlozi
6. Conjunction – veznici
7. Determiner – reči koje određuju imenicu, npr. članovi
8. Exclamation – uzvici
Malo da pojasnimo, koristićemo znanjem proverenih i priznatih stručnjaka, link, pošto nisu svi jedinstveni, kada je ova problematika u pitanju :
1. Nouns (imenice) – A noun is a word that identifies, imenice su reči, koje određuju :
– a person , lice(woman, boy, doctor, neighbor)
– a thing, predmet,neživo biće (dog, building, tree, country)
– an idea, quality, or state, ideju kvalitet ili stanje (truth, danger, birth, happiness).
2.Verbs (glagoli)
glagoli opisuju akciju, šta se radi ili šta se dešava.
– an action, akcija – run, hit
– an event, događaj – rain, occur
– a situation, sitacija – be, seem, have
– a change, promena – become, grow
3. Adjectives (pridevi)
pridevi opisuju imenicu, daju dodatne informacije o imenici.
– a sweet taste
– a red apple
– a technical problem
– an Italian woman
4. Adverbs, prilozi
prilozi nas informišu o glagolu, pridevu ili drugom prilogu.
– He walked slowly.(glagol)
– These schemes are very clever.(pridev)
– The answer to both questions is really rather simple.(drugi prilog)
5. Pronouns (zamenice)
menjaju imenice u slučajevima, kada je imenica već pomenuta, radi izbegavanja ponavljanja
– Kate was tired so she went to bed.
– Harris and others like him suffer from Information Fatigue Syndrome.
– Kieran's face was close to mine.
Anything might happen.
6. Prepositions – predlozi
obično se koriste ispred imenice ili zamenice i pokazuju nam odnos među njima, kao i među nekim drugim rečima u rečenici.
– Her bag was under the chair.
– They arrived on Sunday.
7. Conjunctions – veznici
povezuju reči. fraze,rečenice
– You can have ice cream or strawberries.
He plays football and soccer.
The weather was cold but clear.
8. Determiners – reči koje određuju imenicu
 a/an, the, every, this, those, or many
– a cat
– this cat
– every cat
Na kraju evo i podele vrsta reči u engleskom jeziku:
1. Open Word Classes
– Noun
– Verb
– Adjective
– Adverb
2. Closed Word Classes
– Determiner
– Pronoun
– Preposition
– Conjunction