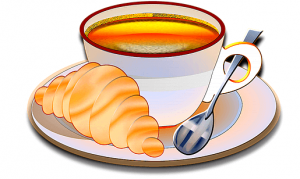 Doručak na engleskom i svi ostali obroci u toku dana
Pažnja, mali uvod 🙂
1- Šta znači engleska reč diet
Često nailazim u našim novinama članke, recimo o mediteranskoj dijeti, grčkoj dijeti i sl., a nakon čitanja članka, shvatimo da se ne radi o dijeti ( u smislu kontrolisanog konzumiranja hrane) nego o načinu ishrane. U pitanju je pogrešan prevod tj. izjednačeavanje značenja naše reči dijeta i engleske diet.
Osnovno značenje reči diet na engleskom je: The usual food and drink of a person or animal.
A diet is simply the pattern of foods eaten; the normal or habitual intake of food of an individual or population.
Znači, to je način ishrane uobičajen za pojedinca ili neku populaciju. Kada govorimo o mediteranskoj kuhinji uporebićemo reč diet.
Inače ova reč potiče od grčke reči diaita i znači sveobuhvatan način života osobe.

Diet u smislu naše dijete je ispravan prevod, kada to odgovara kontekstu.
"A regulated selection of foods, as for medical reasons or cosmetic weight loss."
2 – Glavni obroci na engleskom jeziku
U engleskom jeziku u opticaju imamo više pojmova, koji označavaju obroke – meals u različito doba dana.
1. Breakfast – doručak
The first meal of the day.
Postoji i izraz dewbit, rani zalogaj, dok je još rosa (dew) na travi. Bio je važan davno, kada su poljski radovi određivali način života. Zatim je sledio drugi obrok ili doručak. Sada su se vermena izmenila, pa imamo, kao sledeći obrok
2. Brunch
A meal eaten in the late morning, instead of Breakfast and
Lunch
Brunch – to je postala i uobičejana reč u našem jeziku i onako je baš fancy ići vikendom na brunch.
Reč je kovanica, nastala spajanjem Brekfast + Lunch
3. Lunch
A meal in the middle of the day.

4. Supper
A light or informal evening meal, laka večera, a light meal eaten before going to bed, obrok pre spavanja, ako smo imali pre toga dinner u smislu glavnog dnevnog obroka.
5. Dinner
The main meal of the day, usually when people say "dinner",
they mean an evening meal.
Nekada davno, dinner se odnosio na doručak, kao glavni obrok u toku dana, ali vremenom se pomerao i zaustavio u večernjim satima. Ipak, zadržalo se značenje glavnog obroka u toku dana.