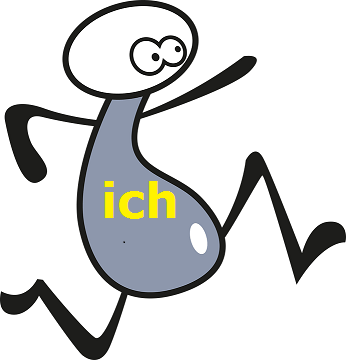 Šta je lepo kod učenja nemačkog jezika – pa to što ima mnogo više zajedničkog sa srpskim jezikom nego engleski. Uzmimo na primer padeže. Nemački je tu na pola puta ima ih 4.
Šalim se malo, da pretrčimo i preko ove, današnje teme
– lične zamenice u nemačkom jeziku.


Sve sam vam nacrtala, klikni dva puta da vidiš sliku preko celog ekrana.
Idemo redom sa objašnjenjima.
Personalpronomen – Lične zamenice
Osnovne karakteristike su:
1. lica – Personen
2. Jednina (Singular) i množina (Plural), broj
3. Padež – Casus (Nominativ, Akkusativ, Dativ, Genitiv)
Jednina:
1. – Ich = ja
Prvo lice jednine, ja- ich, to je onaj ko govori ili Sprecher
2. du -ti
Prisno obraćanje, tzv. Du-Form je u nemačkom malo striktnije nego kod nas, to je za drugare i poroducu.
3. er – on
sie -ona
es- ono
Pročitaj: Nemački određeni član i lična zamenica, jednostavno objašenje za korišćenje
Množina:
1. wir – mi
2. ihr – vi
3. sie – oni
Persiranje = Sie – Vi
Znači problem je sie, koje kao zamenica može da se odnosi, tj da bude ona i oni, a kada se piše velikim slovom onda je to Vi. Razlikujemo da li je ona u putinju ili oni preko glagola tj. različitih ličnih nastavaka. Doći ćemo i dotle.
Ostalo, promenu po padežima, vam je nacrtano i lepo obojeno u tabeli, pa izvolite.
Pročitaj: am, beim – spajanje određenog člana sa predlogom