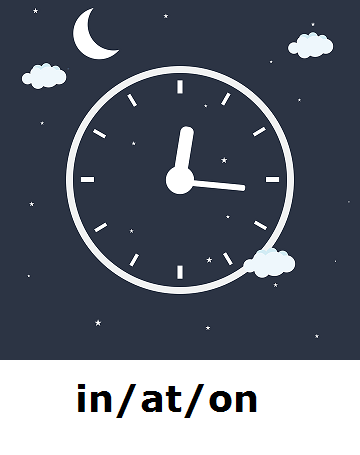 Predlozi sa vremenskim značenjem u engleskom – in/at/on
Predlozi su po definiciji reči koje označavaju odnose među predmetima i pojavama.
Predmeti i pojave se imenuju imenicama, dakle predlozi stoje ispred imenica.
To bi bila definicija iz gramatike srpskog jezika za 8. razred OŠ.
A šta kažu Englezi :
Postoje tri  važene vrste predloga u engleskom jeziku:

Time Prepositions – predlozi sa vremenskim značenjem – In – At – On For – During – While
Place Propositions – predlozi koji određuju mesto radnje – In – On -At
Direction Prepositions – predlozi koji dfenišu pravac kretanja, odvijanja radnje: under, over, right, left etc. link
Znači razjasnili smo se: postoje 3 tipa predloga u engleskom jeziku za vreme, mesto i pravac.
Današnja tema su nam predlozi sa vremenskim značenjem – Time Prepositions.
Time Prepositions In – On – At su da tako kažemo osnovni, najpre je potrebno uočiti pravilnu upotrebu ova 3 predloga.
IN
1.in + doba dana, part of day , ujutru, uveče,….
– in the morning
– in the afternoon
– in the evening
!!!!Pažnja – izuzetak, noću se kaže – at night !!!!!!!!!!
2. in + mesec – month: January, February, March, April, May etc..
– in August
3. in + godišnja doba (seasons) – spring, summer, autumn. tj. zimi – in winter.
4. in + godina (year), vek, istorijski period, srednji vek – in 2009, in the twentieth century.
ON
1. on + dani u nedelji (days of the week) – on Monday
2. on + određeni datum (on + particular date) – on 25 July 2009, on 15th March.
AT
1. at + noć – vidi ponovo upotrebu pod in – at night
2. at + određeni deo dana – particular time: dawn – zora, noon – podne,tačan sat –
nine o'clock
3. at + tačano određen sat, a certain point of time (when?) – at nine o'clock at half past nine
4. at + vikend, lepa srpska reč, dakle – at the weekend
To ćemo sada malo da uvežbamo.