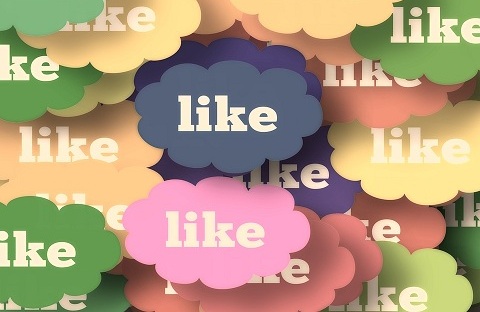 Like u engleskom, glagol, predlog, …
Danas bi baš mogli malo da lajkujemo, onako zajednički. Neverovatno je kako se jezik širi, kako prihvata "nove reči", pa ih onda još malo obradi i dotera. Savršen primer je taj "simpatični" glagol – lajkovati koji nema baš nikakave veze sa Lajkovcem. Nastao je od engleske reči like.
– Like – značenje i upotreba
U engleskom jeziku like može biti glagol, verb u osnovnom značenju dopadati se, sviđati se ili predlog, preposition, u značenju kao, nalik.
– Like kao glagol
Značenje je da nam se nešto dopada, da odobravamo ili podržavamo nekoga ili nešto.
I like ice cream.

– Like kao predlog
Uz like kada je u funkciji predloga uvek mora da stoji objekat posle njega:
You look so much like your father.
U ovom slučaju radi se gotovo uvek o nekom poređenju u značenju kao.
Međutim, ono na šta je potrebno da obratimo pažnju je kombinacija like kao predloga sa različitim glagolima i samog glagola like prilikom postavljanja pitanja:
Like, look like, be like
-1. What does he like? – Kakva je on osoba? Opisujemo osobu i njene sklonosti.
He is quite nice. On je fin. He likes movies and basketball. Voli filmove i košarku.
-2. What does he look like? – Kako on izgleda? Govorimo o fizičkim karakteristikama.
He is handsome and tall. On je zgodan i visok.
-3. What is he like? Kakav je on čovek? To je stvar utiska ili neke vrste opisa.
He is a nice guy. On je fin momak.
What is the weather like? Kakvo je vreme napolju?
Pročitaj: Sve o Present Perfect Tense, građenje, upotreba, primeri
Do like, would like
-1. What kind of food do you like to eat? Koju hranu voliš da jedeš? Činjenice o ličnim sklonostima
– I like fruit. I don't like meat. Volim voće, ne volim meso.
-2. What kind of food would you like to it? Kakvu vrstu hrane bi voleo da jedeš, ovo je stvar izbora ili još bolje želje.
– I would like pasta or pizza.
Važno je napomenuti da se like kao glagol obično ne koristi u Continuous vremenima:
I am liking it.
Like button, istorija lajkovanja – trivia
Pročitaj: Stative verbs, objašnjenje, upotreba
Kako je lajkovanje počelo?
Sve je počelo, naravno na Facebooku. Prva verzija je bila da se postavi opcija awesome button ili opisno impressive button ali to se nije dopalo ni manje ni više nego osobi no.1 – Mark Zuckerberg je stavio veto i to bilo to, ostalo je istorija.
Pitanje je da li uošte znamo šta smo sve lajkovali danas? Pre nego što se vratimo lajkovanju, malo vežbamo:
– vežba