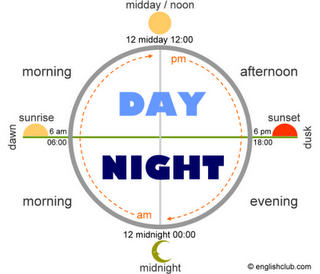 Doba dana na engleskom
Pošto znamo nazive za dane na engleskom jeziku, sada ćemo malo razmotriti, koja su to najvažnija doba dana.
Day – dan na engleskom kao i na srpskom ima dvostruko značenje
1. the 24-hour period during which the earth completes one rotation on its axis, dan kao period od 24h
2. period dana sa sunčevom svetlošću, između svitanja i sumraka, the period of light between dawn and nightfall; the interval from sunrise to sunset .
Dan je podeljen na dva dela, the day is divided into "day(time)" and "night(-time).
Dan počinjemo svitanjem, dawn, sa izlaskom sunca, sunrise.
Zatim sledi jutro, morning i dok se obrnemo eto nama podneva, noon. Sada je ono doba dana koje je posle-after, podneva, znači posle podne, afternoon.
Sunce zalazi, sunset i polako pada mrak, znači sada je sumrak , dusk.
Eto nama naziva čuvenog filma od sumraka do svitanja – From Dusk Till Dawn – čisto da se podsetimo.
Sada više nije dan, mrak je pao, noć je.
Sledi veče, evening, pa noć , night i na kraju ponoć, sredina noći ili midnight.
A kad padne mrak, svašta se dešava posle mraka …..